With Alabama rolling into Mizzou today as 21.5 point favorites, it has me thinking of simpler times on the college football landscape.
No one was (is) more excited about the move to the SEC. I still support it. The college football landscape was (is) changing. Had to make a change or risk getting left behind. If you want to be the best, you have to play with the best. Still, some things just stand out at me and make me think of earlier times.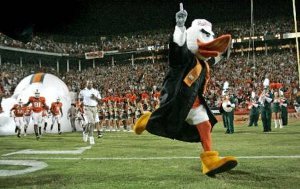 Miami, The U, is 7.5 point underdogs today. At home. Against North Carolina. Miami should never be bad. They need to beat everyone they play by 40 points. UNC? All I think of from them is Tyler Hansboro. Don't we need Miami to be good to complete the college football experience?
Wisconsin is having a trouble season and is an underdog at Purdue of all places this weekend. That's unbelievable. Wisconsin should be able to recruit every decent high school football player from Wisconsin, Minnesota, Iowa and North and South Dakota. They should never lose a game. What other state has coverage like that? What happened?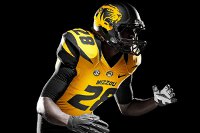 The Tigers and their new uniforms are coming off a home loss to Vanderbilt of all places, and that just makes me sad. I miss the days when Mizzou would put on white uniforms with black pants, black helmets, with our without a solid block golden M, take on Kansas at 11:30 am on Fox Sports, win 63-10 and never throw a single pass. Now we (and every team) has to run either a spread offense or pro style, and all the highlight reel plays are 4 yard slant passes.
And these games now, wow for long. When I went to the Georgia game, I looked at my watch and realized I'd been in the stadium for four and a half hours, and there were 8 minutes left in the 4th quarter. They just go on forever. In the pass happy SEC with all these quarterbacks who can't pass, the constant incompletions make the game go on forever. With the TV timeouts, promotions in the stadium, recognitions in the stadium, it's never ending. Try to watch an entire tv game. It will take close to five hours. Who has this kind of time? I have more free time than just about anyone I know, and I certainly don't. Games used to take three hours on the button. Kick off at Faurot 11:30 and you're at Big by 3pm for afternoon games. You get one game a weekend now, then 4 hours of highlights on Sports Center of 4 yard pass plays.
Texas Christian in the Big 12? No thank you. For me, TCU is supposed to play teams like New Mexico and Wyoming, then get waxed by Texas. West Virginia might win the Big 12 this year. That just doesn't feel right.
Next year the Big East will add Boise State, San Diego State, Houston, Memphis, Southern Methodist and Central Florida. Rack up the frequent flier miles. The WAC, a conference that produced three BCS teams in as many years is on the verge of dying, and is currently boasting Texas San Antonio at 5-0.
I miss the days when conference alignment made geographic sense. I miss days when all uniforms didn't have pink on them.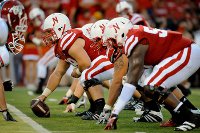 Nebraska fans tell me the thought of running the option playing Iowa State, Kansas State, Colorado … (Who didn't love the Friday day after Thanksgiving Nebraska vs Colorado game by the way?) are fond memories they'd love to see again. Now they play the Minnesota Golden Gophers at TCF Bank Stadium. Snoozer.
So even though I know these changes had to happen, I still look fondly back at college football and miss the simpler times. And don't get me wrong. my chili is certainly boiling for the 2:30 feature SEC game on CBS this afternoon with Verne Lundquist. I have a feeling the Mizzou Team from Tiger down is upset minded and ready to dangle.